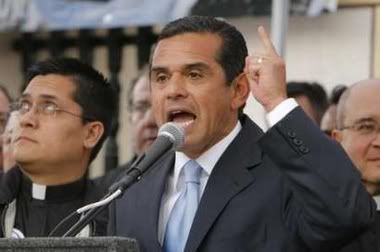 Many in Los Angeles are wondering.
"Don't forget immigration reform," wrote USC professors
Dowell Myers
and
Manuel Pastor
in a 22 March 2008 op-ed in the Los Angeles Times. The well-respected Myers and Pastor make the case that the first step towards immigration reform, and through it continued economic prosperity for the United States, involves changing perceptions towards immigrants. Immigrants, they contend, should not be "viewed as a problem to be solved but [as] an asset to our regional future." The question is: "Where does
Antonio Villaraigosa
, Mayor of Los Angeles, stand on immigration reform?"
Myers
and
Pastor
explain why Los Angeles has to play a leading role in the debate: "We in Los Angeles County have a special interest in this topic: One-third of our residents are immigrants, and nearly half of our labor force is foreign-born. Two-thirds of our youth are the children of immigrants, 90% of them U.S.-born. …our region's economic resilience depends on how these immigrant families and their children fare in coming years."
Myers and Pastor call for "business, community, labor, and government leaders to focus attention on our immigrant and regional future," since "clearly we cannot wait for Washington,
we must start this conversation now in Los Angeles
." Ever since Antonio Villaraigosa was elected Mayor of Los Angeles in 2005, expectations have ran high that he would stand up for issues of importance to Latinos (not to mention all Angelenos).
So what happened?

With the Mayor's Office silent, and immigration a hot election year issue, Washington has gone on the offensive. In February 2008, the Immigration and Customs Enforcement (
ICE
) division of the Department of Homeland Security conducted a brash, foolhardy workplace raid at Micro Solutions Enterprises (
MSE
) in Van Nuys, California. The company, owned by Israeli immigrant and American citizen Avi Wazana, had been in substantial compliance with federal laws regarding employment eligibility, and had even received assurances from ICE that they would not raid his company.
Very little media attention has been paid to this immigration enforcement, one of the most dramatic raids Los Angeles has seen in the past 25 years. MSE, a fast-growing and award-winning manufacturer, had been committed to manufacturing in the U.S. and had even moved jobs to the U.S. from overseas -- the reverse of the outsourcing that we have seen around us the past decade. The results of this reckless, wanton enforcement were sudden, and invoked a dramatic economic and social impact. At the caprice of the federal government, an $80 million business was nearly paralyzed and potentially destroyed. Over 140 innocent workers were arrested and hundreds of others lost their jobs. Dozens of Americans were detained illegally against their will in a
mass detention
.
While an upstanding corporate citizen has been mercilessly thrown into chaos, there has been no attention paid to the impact that continued enforcements of this kind would have on the social and economic fabric of Los Angeles, for certainly more are in the works. We have heard almost nothing from the Mayor on the subject, even though it is well known that our city has developed a deep economic dependence on immigrant labor. The majority of workers in various labor-force segments are undocumented. It is commonly accepted that approximately one million people living in Los Angeles County are undocumented; they include rank and file workers, managers, skilled employees, and entrepreneurs alike.
The
Mayor
has already stated that jobs and the economy are the biggest challenges Los Angeles faces. The economy of our city depends on a harmonious and stable business environment. An intensification of immigration enforcements by
ICE
, given the prevalence of undocumented workers in Los Angeles, could lead to an economic disruption our city has not seen in decades. Why should the people and the economy of Los Angeles suffer solely because the Bush Administration wants to look "tough" on the issue of immigration? National opinion polls suggest that most Americans support the integration of undocumented workers into the economy and granting them permanent status.
Mayor Villaraigosa
should stand up for the city and call upon the Bush Administration to discontinue these senseless enforcements in Los Angeles until such time that the federal government has enacted comprehensive reform of immigration laws.
Many commentators have drawn attention to the Mayor's political aspirations at the national level. In light of immigration having become such a high profile issue this election year; it is ironic that our Mayor has been silent on the very issue that is of paramount importance to our city. Has
Mayor Villaraigosa
lost his sense of judgment and responsibility where our city is concerned? For the Mayor to remain silent and complicit while these immigration enforcements damage the social and economic landscape of Los Angeles borders on gross negligence at best and a betrayal at worst. It is also at odds with a sincere position supporting comprehensive immigration reform. Both the workers and employers of our city have expected more and it is high time that the Mayor
started to deliver
.