Below is an op-ed of mine running in today's
Los Angeles Daily News
.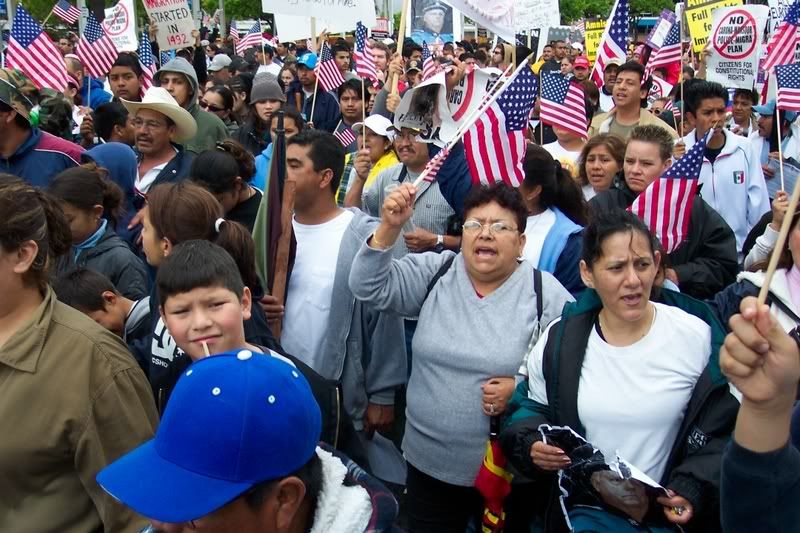 Reason we march on May Day
The immigrant vote will reach unstoppable heights in four short years across California's political landscape _ a veritable big-foot electorate, according to a recent study commissioned by the Grantmakers concerned with Immigrants and Refugees.
Fully one-third of California voters by 2012 will be immigrant voters _ naturalized U.S. citizens and permanent residents eligible for citizenship _ and their teenage U.S.-born children. The implications of even greater growth for Los Angeles city and county are abundantly clear. But these numbers can be deceiving if not matched with organized action and political will.
So why do we march this May Day, considering these very promising demographic projections? If history teaches us anything, it clearly demonstrates that numbers alone do not translate into political power. The political muscle necessary to make substantive policy changes favorable to immigrant working families devolves from organization of the numbers exercised repeatedly toward very specific ends. And the oxygen pumping up these muscles is civic education plus experience.
We continue to wage costly battles over too many issues related to the social well-being of our families. The list is long, and much remains as a legacy of the nasty 1990s in California _ denial of driver licenses, higher education, financial aid, health-care access, business and professional licenses, employment authorization. We also struggle against overt forms of state terror, including wanton workplace and neighborhood raids by the Immigration and Ice Enforcement, the arbitrary impounding of vehicles (which constitutes the outright seizure of personal assets), a growing number of police checkpoints in multiple jurisdictions, and the increased cooperation between ICE and local police authorities throughout the country.
The most recent example is the Arizona Legislature's approval of legislation mandating local law enforcement enforce immigration laws. Thankfully, the state's governor vetoed it.
Notwithstanding a decade of political gains and increased electoral representation for Latinos at all levels of government, we have not secured sufficient political strength to curb the aforementioned practices. The prospects of these issues being resolved in favor of immigrants and their children within another presidential term is highly probable, provided the numbers coalesce politically at the ballot box and in the street. It is not simply the vote juxtaposed to street heat. Both tactics are absolutely relevant to any credible social movement for change, although the change is not an iron-clad guarantee.
Take the elected leadership of the city of Los Angeles, for example. It is the embodiment of diversity and liberalism _ the greatest number of Latinos, blacks, Democrats, gays and liberal Jews probably ever in its storied history.
However, the city is not as friendly to immigrants as one might think. Immigrant raids continue to abound, vehicles are regularly impounded, sweat shops are more the norm than the exception, and the poverty index remains high. The city is no longer considered a sanctuary as once touted by Mayor Tom Bradley in the 1980s. More than 94 percent of the private work force is neither represented by a union nor enjoys a collective bargaining agreement, the schools are a laboratory of failure for immigrant youths, and the prevalence of gangs is greater today than a generation ago _ disproportionately concentrated in immigrant neighborhoods. This is why we continue to march.
May 1 is a "shout-out" not just to the adversaries of immigrants' social integration and progress. Its footprint on California's political map will only get bigger. Nevertheless, it is just as much a shout-out internally to the immigrants themselves. The lesson to working people today is that nothing changes without a fight, a struggle and a purposeful movement by collections of people with a common cause. And if they don't pursue their dream in an organized fashion, life goes on as before and they remain objects of history, not subjects. Numbers alone are not enough _ organized action and political will have to be marshaled together.
Nativo V. Lopez is the national president of the Mexican American Political Association and was a lead organizer of the historic immigrant mass marches of 2006. He also blogs about Latino, immigrant and other issues at http//nativolopez.blogspot.com.